نفذت الكمية

OXVA – XLIM POD SYSTEM 25W
SHOP XLIM POD SYSTEM V2 25W NOW, featuring an internal 900mAh battery, 5-25W output range, and is equipped with revamped 2mL pods.Constructed from durable lightweight aluminum-alloy, the chassis of the XLIM POD SYSTEM V2 delivers a highly portable pod system
BRAND : OXVA
PRODUCT NAME : XLIM 25W POD SYSTEM
ــــــــــــــــــــــــــــــــــــــــــــــــــــــــــــــــــــــــــــــــــــــــــــــــــــــــــــ
SHOP XLIM POD SYSTEM V2 25W NOW, featuring an internal 900mAh battery, 5-25W output range, and is equipped with revamped 2mL pods.
Constructed from durable lightweight aluminum-alloy, the chassis of the XLIM POD SYSTEM V2 delivers a highly portable pod system, fitting neatly into the bookbag,
purse, or pocket. Maintaining the slim pen-style vape form-factor, the XLIM POD SYSTEM V2 Pod System packs plenty of power and functionality into a diminutive package.
Furthermore, the OXVA XLIM V2 Kit is equipped with 2mL refillable pods with integrated coils.
ــــــــــــــــــــــــــــــــــــــــــــــــــــــــــــــــــــــــــــــــــــــــــــــــــــــــــــ
SEE THE BOX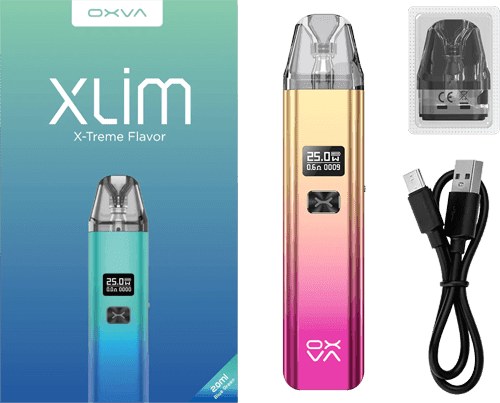 XLIM V2 25W Pod System Features
Dimensions: 111mm by 24mm by 14mm
Battery: Internal 900mAh
Wattage Output Range: 5-25W
Resistance Range: 0.6-1.2ohm
Aluminum-Alloy Chassis Construction
Dual Firing Mechanism – Button and Draw
Intuitive Firing Button
0.42″ TFT Display Screen
Side Airflow Switch
OXVA XLIM V2 Pods
Capacity: 2mL
Fill: Side Fill – Silicone Stoppered
Integrated OXVA Coil
0.8ohm XLIM V2 Pods
1.2ohm XLIM V2 Pods
Magnetic Pod Connection
Charging: Type-C
Includes:
1 XLIM Device
1 0.6ohm XLIM Pod
1 0.8ohm XLIM Pod
1 Type-C Cable
1 User Manual
Warning:
Make sure to properly prime each coils and pods before use.
Only logged in customers who have purchased this product may leave a review.